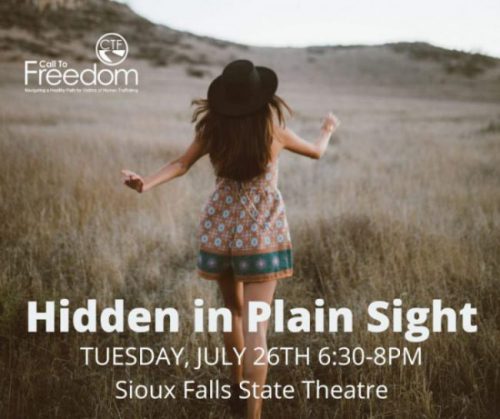 Hidden in Plain Sight
Call to Freedom Presents
Hidden In Plain Sight: Community Leaders and a Panel of Survivors of Human Trafficking Sharing Their Life Journey to Shine a Light On Modern Day Slavery.
Location: Sioux Falls State Theater (Downtown Sioux Falls) 316 S Phillips Ave.
Survivors will share their personal journeys to educate and bring awareness on the issue of human trafficking.
Rebecca Cary – Survivor and Founder of Hands of Justice, Consultant, Speaker, Educator, and Overcomer Leader. A recent graduate of Sam Houston State University with a major in Psychology and a minor in Human Services, Rebecca is currently enrolled in a master's program for Victim Studies and set to graduate December 2022. She holds the Survivor position on the board of the Montgomery County Coalition Against Human Trafficking and serves on the Survivor Leader Council for the state of Texas. She was featured in a PSA, as well as a short film, for the new Goya Care initiative, appeared on NBC, and has also been an endorser for the "Can you See Me" campaign, led by A21 in various cities throughout Texas.
Rita Gail O'Brien, LLMSW – Survivor of familial trafficking and educator in the field of sex trafficking. Rita has a passion for Justice to educate the very communities that she was trafficked from. Professionally, she has done Security, Police Work, Photography, and Journalism and was a House Director at a Sorority at the University of Michigan. Rita got her Undergraduate Degree at Eastern Michigan University and then went on to get her Masters in Social work from Western Michigan University with a Trauma focus. Rita is a Board member of Pearls of Great Price Coalition out of Plymouth MI and is also on the board for Kalamazoo Area Anti Trafficking Coalition. Rita continues to speak out to educate others on how to watch for Human Trafficking in their communities. Rita is the rank of Major in the volunteer organization Civil Air Patrol (United States Air Force Auxiliary).  Rita enjoys helping serve meals at her church at the midweek service. When Rita gets a free moment you will find her anywhere on Lake Michigan, she likes to be at Silver Lake Sand Dunes on a 4- wheeler tearing up the sand with her sons.
Mary Jackson – Survivor of cartel trafficking and is a speaker, trainer, & advocate for victims of human trafficking and sexual exploitation. Mary serves on the Board of Directors at Call to Freedom and through her work at Call to Freedom, she leads the Survivor Program as a coordinator.  She mentors victims of human trafficking on their journey as well as sharing her own journey. Mary is a vital part of Call to Freedom's survivor mentor program.
FREE Event but you must register online as seating is limited!